For Plumbing Services Please Call – 928-412-3717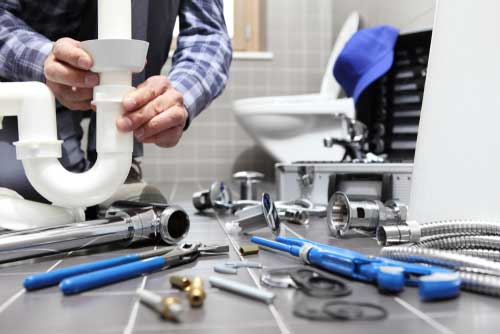 Ultimate Services is proud to announce our new plumbing division, Ultimate Plumbing Services serving Lake Havasu City, AZ! In providing plumbing services to area residents and business owners, we'll carry on a proud tradition of excellence for our customers. The next time you need a plumber, Just Remember UPS and expect the same high-caliber level of service we've always provided!
As we move into providing Ultimate Plumbing Services, our customers can rely on our knowledgeable staff to bring them steadfast plumbing expertise, current technology, code compliance and OSHA Safety Compliance while on the job. Safety and satisfaction are our two biggest priorities, and we always do what it takes to deliver them.
An Experienced Team
For nearly two decades, Lake Havasu City, AZ customers have turned to us for remodeling and improvement services. In many cases, this has meant acting as a plumber, as well. As we formally move into offering Ultimate Plumbing Service, we've established a highly-reliable team to ensure superior results.
We Welcome Plumbing Projects Big and Small
Our approach to projects has always been comprehensive and will be no different when it comes to our plumbing services. We welcome jobs big and small, no matter the scope of work or the expectation. Expect us to do the best job possible—up to code, on-time and within budget. Some of the many projects we have experience with include:
Hotels
Medical Facilities
Restaurants
Laundromats
Retirement Condo Communities
Single-family/Multi-Family New Construction
Industrial Construction
Commercial Construction
Remodel Full Kitchen and Bath
Replacing Old Copper Pipe with New Wisbo
Hire a Plumber
Need a plumber? Ultimate Services is proud to deliver Ultimate Plumbing Services to Lake Havasu City, AZ home and business owners, effective immediately! Contact us today at 928-412-3717 to schedule an appointment or to discuss your project needs.
ROC#330361
Stacy Olsavsky
Stacy Olsavsky brings to the company nearly 15 years of customer service at only 30 years old. Since her teens, Stacy has worked in the restaurant industry, medical field, real estate and even radio! Most recently, Stacy has made the move to the construction industry, working hands on with her fiancé and Project Manager of Ultimate Services, Jake Brown. In her free time, Stacy likes to use her creative mind, playing multiple instruments and writing music, earning sixth place in Havasu's own Lake Havasu City Songwriters Competition in 2015. Stacy also earned the "Donny D" Scholarship while attending MCC for her EMT Certificate, which requires achieving the highest grade in the class. We are excited to have such a hardworking and reliable individual on the Ultimate Team and are cannot wait to watch her grow with the company.
"Just a smile can make all the difference" – Stacy O.